APPLICATIONS ARE NOW OPEN. CLICK HERE TO FIND HOW TO APPLY
Work for European Parliament while learning about transnational affairs in Washington, D.C.
*** Applications for our Spring 2024 intake are now OPEN***
Deadline for applications: end of day Friday, November 17th 2023.
Our internship consists of a three months work experience in Washington DC, with a possible two-month extension in the same office.
Currently interns are allowed one day teleworking from home, per week.
Intakes:
Fall: September 16th - December 15th, with possible two-month extention until February 15th
Spring: March 1st - May 31st, with a possible two-month extention until July 31st
Who is eligible for the EPLO internship?
Please check you meet all the criteria before applying. We welcome applications from:
US citizens and others holding a valid US work permit. (EPLO does not sponsor of facilitate applications for US work visas)
University graduates. Candidates need to have completed studies at least at undergraduate level, and if selected must be able to provide an undergraduate or postgraduate official diploma parchment at least one month before the beginning of the internship.
Candidates must be available for a full-time internship from the first day of the internship cycle. We regret it is not possible to accommodate part-time arrangements or delayed starting days.
Candidates who have previously gained two consecutive months or more work experience (including internships) at any European Union institution are not eligible.
EU citizens and others: Please note that it is also possible to apply for the Robert Schuman traineeship at the European Parliament's offices in Brussels, Strasbourg, Luxembourg and in EU Member States. This is primarily aimed at citizens of EU member states and accession/candidate countries, however a limited number of traineeships can be offered to nationals of other countries."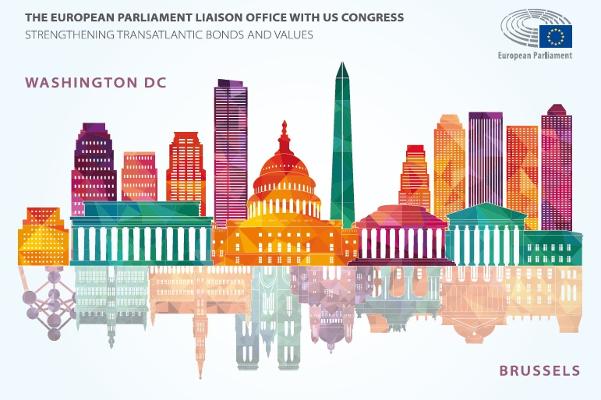 About the European Parliament Liaison Office in Washington DC (EPLO)
The European Parliament opened its Washington Liaison Office in April 2010 to meet the growing need for contact on legislative issues between the US Congress and EU lawmakers. This came after the introduction of the Lisbon Treaty in December 2009, which gave the European Parliament expanded legislative powers within the European Union, comparable to those of the US House of Representatives.
Venue
Our Washington DC office is located on the 6th floor at 2175 K Street, NW, in the same building as the European Union Delegation to the US.
What do EPLO interns do?
Work with staffers on specific policy areas or a broader range of transatlantic policy issues;
Participate in events and meetings with major interlocutors on Capitol Hill, executive agencies, think-tanks and NGOs;
Analyse legislation and policy discussions relevant to the transatlantic EU-US relationship;
Prepare working papers, memos and research papers for Members of the European Parliament and staffers at our headquarters;
Assist the preparation and management of visits to the US by Members of the European Parliament and senior staffers;
Support our head of outreach, with event management, content and multimedia products;
Help maintain and develop our database of contacts.
Up to four interns will be accepted in the office, each assigned to one of the European Parliament's staffers charged with creating and fostering working relations between parliamentary committees and their Congressional and regulatory counterparts in the US government.
EPLO staffers' work liasing with US Congress cover the following policy portfolios:
Foreign affairs, international trade, security and defence, international development and human rights
Data, privacy, counter-terrorism, migration
Financial services, energy, environment
Cross-policy: Outreach and public diplomacy
Cross-policy: European Parliament Research Service
You may express an interest in one or more of these portfolios in your application, it is not compulsory to do so and if selected your work will not be limited to one of these areas. Interns may be assigned more than one portfolio, or other tasks not described above.
What might you gain from an EPLO internship?
Familiarity with policy-making, both in the US and the European Union;
An opportunity to learn by doing;
Networking opportunities with EU institutions, Congress, think tanks, NGOs and others;
Experience working in a truly multinational European team – you may also practice your linguistic skills;
Access to a vibrant network of current and former interns;
Overall: a career-enhancing experience leaving you better-equipped for a future role in politics, international organisations, NGOs or the corporate sector.
Remuneration and conditions
A monthly stipend of around USD1350 will be granted for the duration of the internship in Washington DC and optional two-month extension.
Accident and sickness insurance.
Interns may take two days of personal leave per month.
Interns are required to make their own housing arrangements.
Currently interns are expected to work from the office, with an optional one teleworking day per week.
How to apply
Applications for the Spring 2024 intake are now OPEN
Please check you meet all eligibility requirements before applying. You will need to submit:
Your CV in the EU's Europass format (available here)
A statement of interest, maximum 500 words, which should specify your preferred policy portfolio(s), if relevant
You need to request:
One recommendation letter by a university faculty member (required).
One additional letter of recommendation, e.g. from an employer, may also be submitted (optional).
Your CV and statement of interest must be sent to epwashington.internship@europarl.europa.eu.
All referees must send their letters of recommendation directly to the same email address until end of day, November 17, 2023. References sent by candidates themselves cannot be considered.
Feel free to send any inquiries to this email as well!
---
Internships at the EU Delegation to the USA
In addition to EPLO internships, the EU Delegation to the USA offers internships to students interested in the EU and international affairs. For more information, contact:

Delegation-USA-Internships@eeas.europa.eu
Intern with us
APPLICATIONS ARE NOW OPEN. CLICK HERE TO FIND HOW TO APPLY