Meet our fall 2023 interns!
Welcome to Kate, Griffen, Andrew, and Caitlyn
Meet our fall 2023 interns !
Welcome to Kate, Griffen, Andrew, and Caitlyn--our new fall interns. In the next five months, they will work together with the Parliament's team in D.C.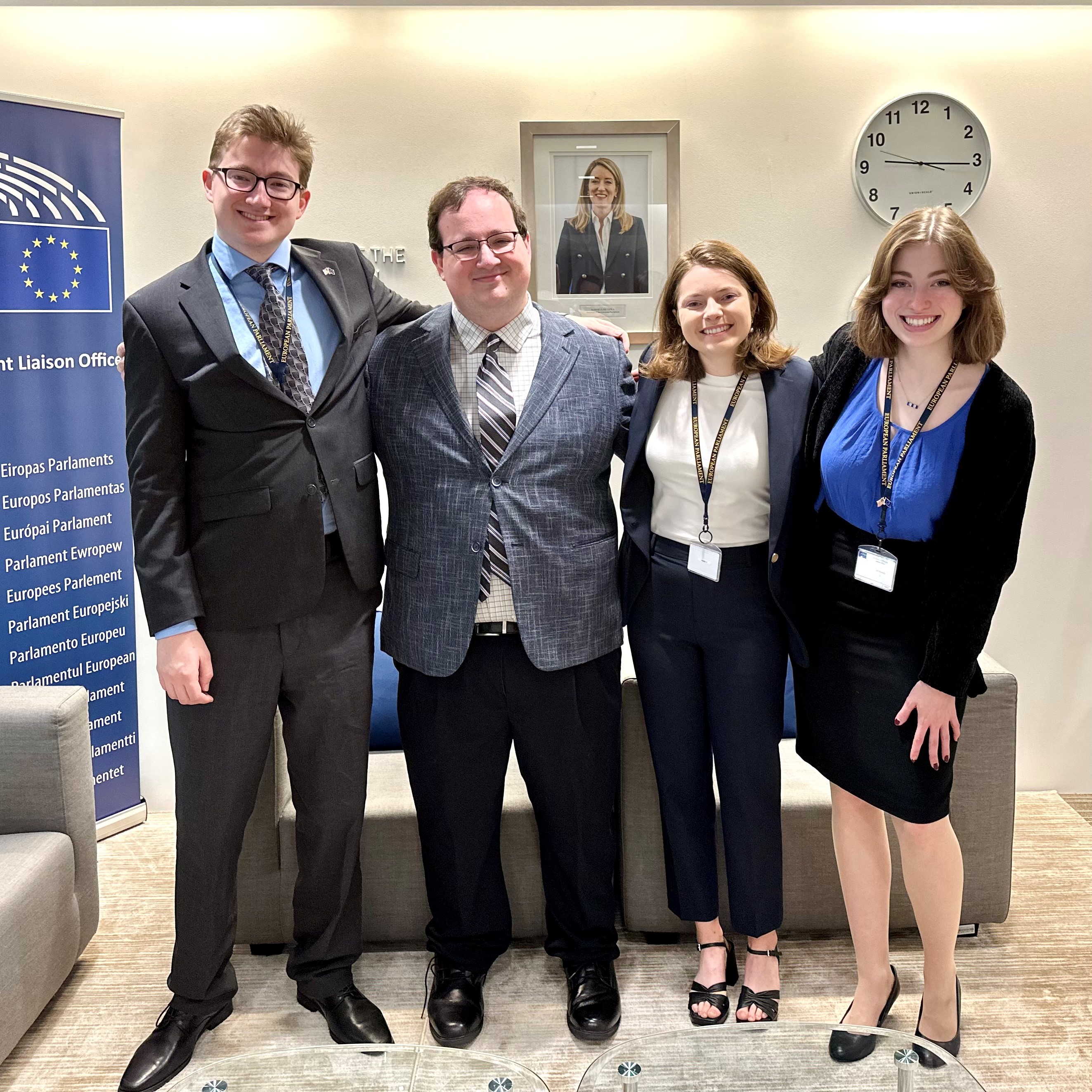 Each fall and spring, the European Parliament Liaison Office in Washington, D.C. welcomes four interns to support the organization's work in fostering EU-US cooperation on relevant legislative issues. The interns are assigned to different policy portfolios and supervised by EPLO staffers throughout their five-month internship program. In addition to promoting intergovernmental cooperation, EPLO interns perform critical administrative and analytical functions, including preparing working papers, analysing legislative developments, and supporting the office's events and outreach.
Our interns come to D.C. from across the U.S. to learn from EPLO staffers and develop their professional skills. Kate--who covers the foreign affairs, international trade and development, and human rights portfolio--joins us from Minneapolis, Minnesota. She has a degree in Global Studies from the University of Minnesota Twin Cities and previously worked as a research assistant for her alma mater. Andrew is from Tallahassee, Florida, and works with EPLO to conduct research with the European Parliament Research Service. Prior to the internship, he worked for the University of Florida, where he graduated with a degree Political Science. Griffen, our energy and environment intern, also matriculated from University of Florida with a Bachelor's degree in International Studies and Political Science. From there, he received a Master's of Global Policy Studies from University of Texas before coming to EPLO. Our outreach and public diplomacy intern, Caitlyn, is from Texas. She earned a Bachelor's degree in Political Science from Stephen F. Austin State University, and is pursuing a Master's degree in International Affairs from George Washington University while working at EPLO.
We are delighted to work with such bright, young people to advance the EU-US legislative relationship! The learning experience this internship provides will equip all four interns with the network, professional capacity, and core competencies to be able to succeed in the future. To follow along on their journey and to stay updated on EPLO's work, please follow us here and on our social media channels.